Dan PESCARU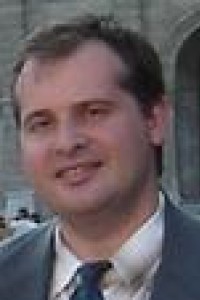 Academic Title
Associate Professor
Office Contact
Rooms B625, B623
dan.pescaru (at) cs.upt.ro
Selected Publications
Anchor Node Localization for Wireless Sensor Networks Using Video and Compass Information Fusion,
D. Pescaru, D.I. Curiac,
Sensors, volume 14, issue 3, MDPI Basel, March 2014, pp. (4211 - 4224), ISSN 1424-8220, DOI: 10.3390/s140304211.
Ensemble based traffic light control for city zones using a reduced number of sensors,
D. Pescaru, D.I. Curiac,
Transportation Research Part C: Emerging Technologies, volume 46, Elsevier, September 2014, pp. (261 - 273), ISSN 0968-090X, DOI: 10.1016/j.trc.2014.06.006.
Validation of Static Properties in UML Models for Cyber Physical Systems,
G. Magureanu, M. Gavrilescu, D. Pescaru,
JZUSC Computers and Electronics, volume 14, issue 5, Springer, May 2013, pp. (332 - 346), ISSN 1869-196X, DOI: 10.1631/jzus.C12002.
Stochastic Model-based Heuristics for Fast Field of View Loss Recovery in Urban Traffic Management Through Networks of Video Cameras,
C. Istin, D. Pescaru, A. Doboli,
IEEE Transactions on Intelligent Traffic Systems, volume 12, issue 3, IEEE Press, September 2011, pp. (895 - 907), ISSN 1524-9050 , DOI: 10.1109/tits.2011.2123095.
A Goal-Oriented Programming Framework for Grid Sensor Networks with Reconfigurable Embedded Nodes,
V. Subramanian, M. Gilberti, A. Doboli, D. Pescaru,
ACM Transactions on Embedded Computeing Systems, volume 11, issue 4, ACM Press, December 2012, pp. (79:1 - 79:30), ISSN 1539-9087 , DOI: 10.1145/2362336.2362346.